Biography
Ray Charles didn't need to meet singer Tracey Whitney to know she was his ideal back-up vocalist. Called to audition for The Genius of Soul's background singers, The Raelettes, Tracey left her demo when Charles couldn't make their meeting. Later that afternoon, his management called to say she'd landed the gig. "Ray just listened to my tracks and said, 'She's got it", Tracey recalls. "Four days later, I was onstage singing with him at the Hollywood Bowl for the Playboy Jazz Festival, the next day in Denver, and so on... What a ride!"
Luckily, Tracey, a sultry singer, prolific songwriter and passionate performer who, in the style of yesteryear, delivers R&B, Pop, and Jazz vocal stylings equally - was no stranger to the stage. Her musical history stretches all the way back to age 11, when at the famed Coconut Grove in Los Angeles, Tracey made her debut as part of The Whitney Family, a singing ensemble that included her mother Louise Whitney, brother's Glynn, Nick, Phillip and Ellis Ray (Ray-Ray), and sister's Cozette (Cookie) and Louise and Louanda (twins). Over the next 15 years, The Whitney Family toured the world, recorded albums for both United Artists and Warner Curb Records (their 1977 Airways LP included Let Me Be Your Woman, a Billboard magazine Top Singles Pick), and made guest appearances on numerous TV shows, most notably Burt Sugarman's The Midnight Special.
"My parents were both singers, and all eight of their kids came out singing," she says. By the age of twenty-two she realized that the group had outgrown its "cute kid" image, and she set her sights on a solo career; regularly performing in Los Angeles before landing the much-coveted role of Raelette for Mr. Charles' 1991 U.S. tour. In 1995, she won a featured spot on Barrymore in Hollywood, British TV show host Michael Barrymore's American special. She did session work for various bands (most notably Heavy Metal super-group, W.A.S.P. featuring Blackie Lawless), and performed shows in Las Vegas with the band Side Effect (best known for their 1976 R&B hit Always There). From late 1995-2000 Tracey lived in Japan as a highly sought after performer in various nightclubs and hotels in Tokyo, Yokohama and Tokushima. During this period, she also did session work and performed in concert with Japanese superstars Sing Like Talking, Namie Amuro and Tokiko Kato.
An entrepreneur, Tracey launched an independent record label, Babydoll Entertainment & Records in 2007 by releasing her first solo album, Love…A Fable in 9 Acts. This was followed in 2012 with I Am Singing...Songs I Love, and her third recording, Live At The Outpost Performance Space, released in May 2017, was a New Mexico Music Awards nominee for Best Vocal Performance. (See album details under the Babydoll Entertainment tab).
She relocated from Los Angeles to Albuquerque, New Mexico in 2012 and, much to her delight, found The Land of Enchantment to be a jazz haven that she affectionately calls "The gift that keeps on giving." She has a thriving performance schedule and is routinely called upon to be the opening act when stars come to town for 103.7 The Oasis Radio + Cool Jazz Forever Productions concert series, allowing her the unique opportunity to perform with a host of touring contemporary jazz elites, including: Will Donato, Marc Antoine, Euge Groove, Darren Rahn, Julian Vaughn and Brian Simpson. Her concert performances have included both the New Mexico Jazz Workshop's Jazz Under the Stars Women's Voices and Ladies Sing the Blues concert series at the ABQ Museum Amphitheater, two solo concerts at The Outpost Performance Space, The Santa Fe Bandstand, Leonard Tischler's Freedom Work: Folk Forms and Variations (twice), the Summertime in Old Town Gazebo concert series, and the Route 66 Summerfest. She performed in the ABQ Film & Music Experience's tribute concert to world-renowned bassist Nathan East at the KIMO Theater (he gave her a standing ovation!), and twice for the New Mexico Black Expo (opening for Shalamar member Howard Hewett). Tracey was thrilled to co-write, produce and perform the concert A Dangerous Creation: A Tribute to Johnny Otis with Zenobia Conkerite at the ABQ Museum Amphitheater in 2016. Coincidentally, both Tracey's mother, Louise Whitney, and Aunt Mary Lee Whitney - who was a member of Stevie Wonder's background singers Wonderlove (she was also the featured female vocalist on Stevie's classic AS from his mega-hit LP Songs In The Key of Life), toured with Johnny Otis, an R&B pioneer, and gospel/soul legend and Rock and Roll Hall of Fame inductee Solomon Burke in the late 1960's. Tracey's 2017 highlights included performing in concert at the African American Performing Arts Center, being a featured performer for the New Mexico Music Awards, the ABQ Film & Music Experience VIP party, and the Women's Voices: Songbirds of Jazz concert at the ABQ Museum Amphitheater. Her 2018 highlights included her concert "Guess Who I Saw Today? A Tribute To Nancy Wilson" at the African American Performing Arts Center, her third year at the New Mexico State Fair, opening for and performing with Smooth Jazz star Will Donato for his Amplified Jazz Experience concert at AAPAC,  and her second engagement at the St John's College Music on the Hill concert series in Santa Fe in June.   
Whitney has performed her own blend of sophisticated jazz, classic soul and blues throughout the city in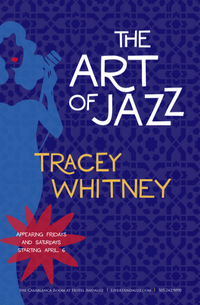 venues such as Vernon's Black Diamond Lounge, the Santa Ana Star Casino, the Hyatt Tamaya Resort, the Isleta Casino (she was featured in their 2014 Embers' Steakhouse TV commercial and website), Pappadeaux, Scalo, the Hyatt Regency, St Clair Winery, Casa Rondena Winery, and the Hotel Andaluz, where she performed regularly from 2016-2018, and along with her band (Sid Fendley on piano, Rodney Bowe on bass and Wayne Johnson on drums), were the resident performers every weekend in the hotel's Casablanca Room where their show, The Art of Jazz with Tracey Whitney, was voted the Best Place for Jazz by Albuquerque The Magazine. 
Tracey serves as President of the Board of Directors of the Musicians Association of Albuquerque/Local 618 of the American Federation of Musicians, and is formerly president of the African American Performing Arts Center Foundation, (she served as a Board member from 2015-2017 and as president 2017-2018). She's a voting member of the Los Angeles chapter of the National Academy of Recording Arts and Sciences (the GRAMMY Awards), as well as a contributing writer/music critic for Smooth Jazz magazine, tasked with reviewing concerts and CD's, and interviewing superstars including Earl Klugh, The Yellowjackets, Terence Blanchard and Arturo Sandoval. She was appointed a Music Commissioner for the State of New Mexico under Governor Michelle Lujan Grisham. Her term runs from September 11, 2020- September 11, 2022. 
Tracey produced the concert "Black Music Through The Ages: 1869-1969" for the African American Performing Arts Center in February 2017. She's an Upper Merit graduate of the London-based The Voice College with a Higher Certificate in Contemporary Vocal Teaching: Children & Adolescents, and has joined the music department of the New Mexico School for the Arts (the state's only public, statewide high school offering pre-professional arts training and academics) as the jazz vocal  mastery instructor. As her former boss Brotha' Ray put it, "I was born with music inside me…It was a necessity for me; like food and water." We couldn't agree more….